Kayla Coombs, MSW, RSW
Kayla is an Associate at Oakville Counselling on a part-time basis.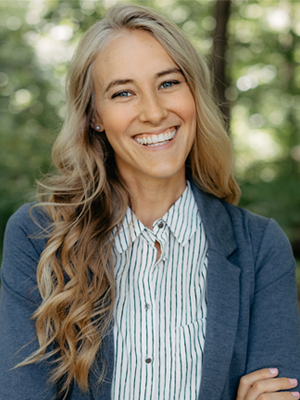 In her clinical practice, Kayla works with youth (ages 12+ up) and young adults with a diverse range of mental health needs. Kayla specializes in working with stress, anxiety, low mood, depression, crisis intervention (i.e. suicidal ideation), family dynamics and relationship concerns, school difficulty and peer conflict, self-esteem issues, chronic pain and grief and loss.
Kayla will create an approachable, warm, encouraging and empathic environment that will help you honour, explore and process your honest thoughts, feelings and emotions.
Kayla values attentive listening, providing psychoeducation, and applying unique skills, tools and strategies in session that attend to both the body and the mind. She draws on a strengths-based approach by encouraging and empowering you to highlight your strengths, skills and resilience in the face of adversity.
Kayla will hold a safe space for you that is sincere, compassionate, and non-judgmental to help you get the most out of your counselling experience. She would consider it a privilege to work with you and help you experience the support, growth and healing that you desire.
Kayla graduated with a Masters degree in Social Work from Wilfrid Laurier University, Waterloo, Ontario in 2017.
Member, Ontario Association of Professional Social Workers OASW.
Member, Ontario College of Social Workers and Social Service Workers OCSWSSW.
Standards of practice set by the Ontario College of Social Work regarding confidentiality, record keeping and other areas of integrity in practice are adhered to.
The designation RSW, registered social worker, represents an accountability to the public and the College.
Professional Excellence
Commitment to professional excellence and maintenance of a high quality of service is achieved through:
Kayla is a full-time school Social Worker in a private High School in Oakville
Extensive and ongoing professional development
Participation in consultation groups
Advanced Training
Cognitive Behavioral Therapy (CBT)
Dialectical Behavioral Therapy (DBT)
Internal Family Systems Theory (IFS)
Emotion Focused Therapy – For Individuals, Couples and Families (EFT)
Attachment, Trauma and the Brain
Mindfulness Approaches
Crisis Intervention - Applied Suicide Intervention Skills Training (ASIST)
Professional Associations
University Associations

Ontario College of Social Workers and Social Service Workers

Ontario Association of Social Workers

Wilfred Laurier University

University of Guelph